Next-Generation ERP System & Apparel ERP Software
EXENTA BRINGS A FRESH APPROACH THAT DELIVERS A SIMPLER, BETTER WAY.
"Using an apparel ERP software is key for any apparel or soft goods manufacturing entity, because we have unique operational and administrative needs. First and foremost, Exenta's grid system is very user-friendly for apparel manufacturing, and that's been essential to improving order accuracy and saving time." Carrie Bovender, CEO and Founder, Grand Forest
✓ Single Fully Integrated ERP System
✓ Next-Generation Technology
✓ Easy to Configure & Implement
✓ Cloud/On-Premise Options
✓ Low Total Cost of Ownership
✓ Unsurpassed Industry Expertise
Exenta is unquestionably the leader for fashion and apparel ERP software. Exenta ERP's innovative application design and data structure represent over four decades of apparel-specific expertise.
Continuing development is supported by over 700 years of combined experience, further enhanced by our apparel-focused customer base's input and influence.

In the last ten years, Exenta ERP software has replaced nearly every known apparel ERP system on the market for the fashion industry, yet a competitor has never replaced us.
Exenta ERP software delivers the most advanced technology in the apparel ERP space and carries no technological debt. Our easy-to-use interface and underlying data structure are designed to meet apparel brands' unique needs. The ability to customize for STYLE, COLOR, LABEL, PREPACK and SIZE has a cascading effect on workflow, ensuring ease of use within every downstream process.
The Exenta fashion ERP system is supported by our skilled staff, ensuring you have one point of contact for any issue, backed by our team's deep expertise — guaranteed to resolve any issue quickly. We see every inquiry through to a satisfactory conclusion.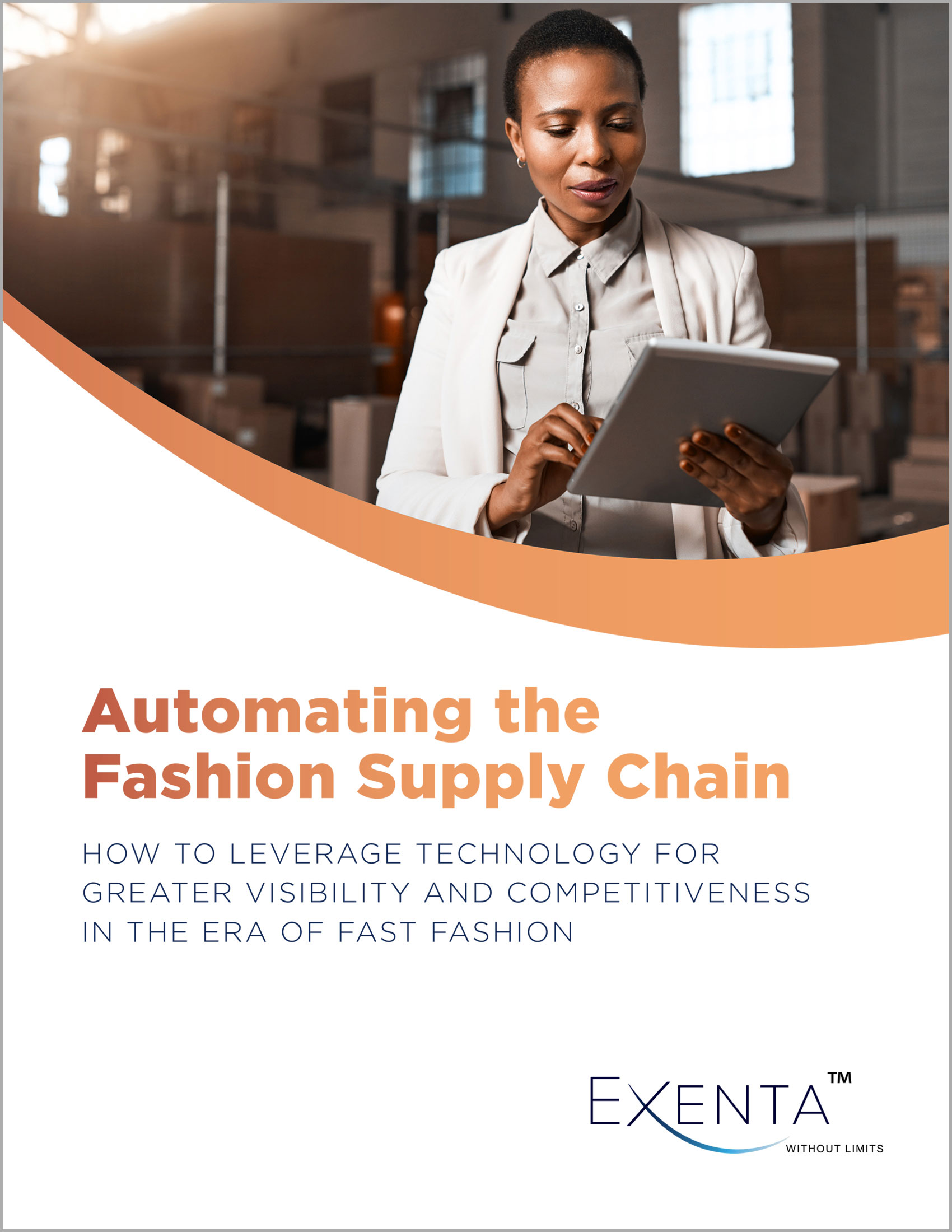 Read Our FREE Whitepaper
and learn how to bring efficiency to the five stages of the Fashion Supply Chain
DOWNLOAD NOW
See How Exenta Measures Up!
Request a copy of our Fashion and Apparel ERP Software Comparison Guide.
Listen To What Our Customers Have To Say
Read our Whitepaper on Fashion and Sewngoods Manufacturing Best Practices >
The Simplest Path From Concept To Consumer
Enterprise Resource Planning
✓ Streamline Order-to-Cash
✓ Improve Financial Controls
✓ Automate Critical Processes
Supply Chain Management
✓ Reduce Cycle Times & Costs
✓ Improve Visibility & Control
✓ Improve Testing & Quality
Product Lifecycle Management
✓ Streamline Development Cycle
✓ Reduce Product Costs
✓ Track & Manage Calendar
Warehouse Management
✓ Reduce Inventory Levels
✓ Increase Inventory Accuracy
✓ Reduce Chargebacks / Returns
Shop Floor
Control
✓ Real-Time Visibility/Control
✓ Speed On-Time Deliveries
✓ Increase Productivity / Efficiency
Electronic Data Interchange
✓ Ensure Retail Compliance
✓ Increase Order Accuracy
✓ Reduce Chargebacks/Costs
Materials Requirements Planning
✓ Manage Import/Mfg Plans
✓ Improve Accuracy of Buy Plans
✓ Optimize Deliveries & Inventory
Financial Management
✓ Optimize Management & Reporting
✓ Streamline Receivable & Payables
✓ Ensure Accounting Standards Compliance
It's your choice. Stay with an inefficient legacy system and isolated data streams, or make the move to our next-generation enterprise technology and take your business into the future.
Related Articles