Flexible Fashion Supply Chain Management Technology
In today's marketplace, fashion brands need to be able to evolve with consumer demands. Exenta from Aptean offers the only complete supply chain management (SCM) software technology suite designed for the apparel and soft goods industry. Real-time visibility across your supply chain helps you continuously optimize operational decisions while balancing competing demands for cost,
speed and quality.
Exenta from Aptean's fashion supply chain management technology provides the real-time information you need to make critical decisions that affect you, your customers and your bottom line. Optimizing your fashion supply chain management can increase your bottom line and combat supply chain waste.
Our supply chain management software allows you to:
Collaborate with vendors by sharing access to tech packs, product documents, and images
Give supply chain partners more efficient tools to communicate with your staff through our SCM software. Test out varying scenarios to see how choosing different suppliers, materials, or production facilities will impact costs and delivery schedules. Better engage customers by providing real-time answers to questions about orders
Read our Data Sheet
Learn how to bring efficiency to the five stages of the Fashion Supply Chain

Download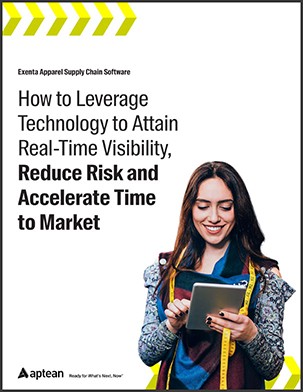 The Simplest Path From Concept To Consumer