Exenta Client Southeastern Performance Apparel Pivots Niche Manufacturing to Meet COVID-19 Needs in Local Hospital
by Alexis Borucke | April 1, 2020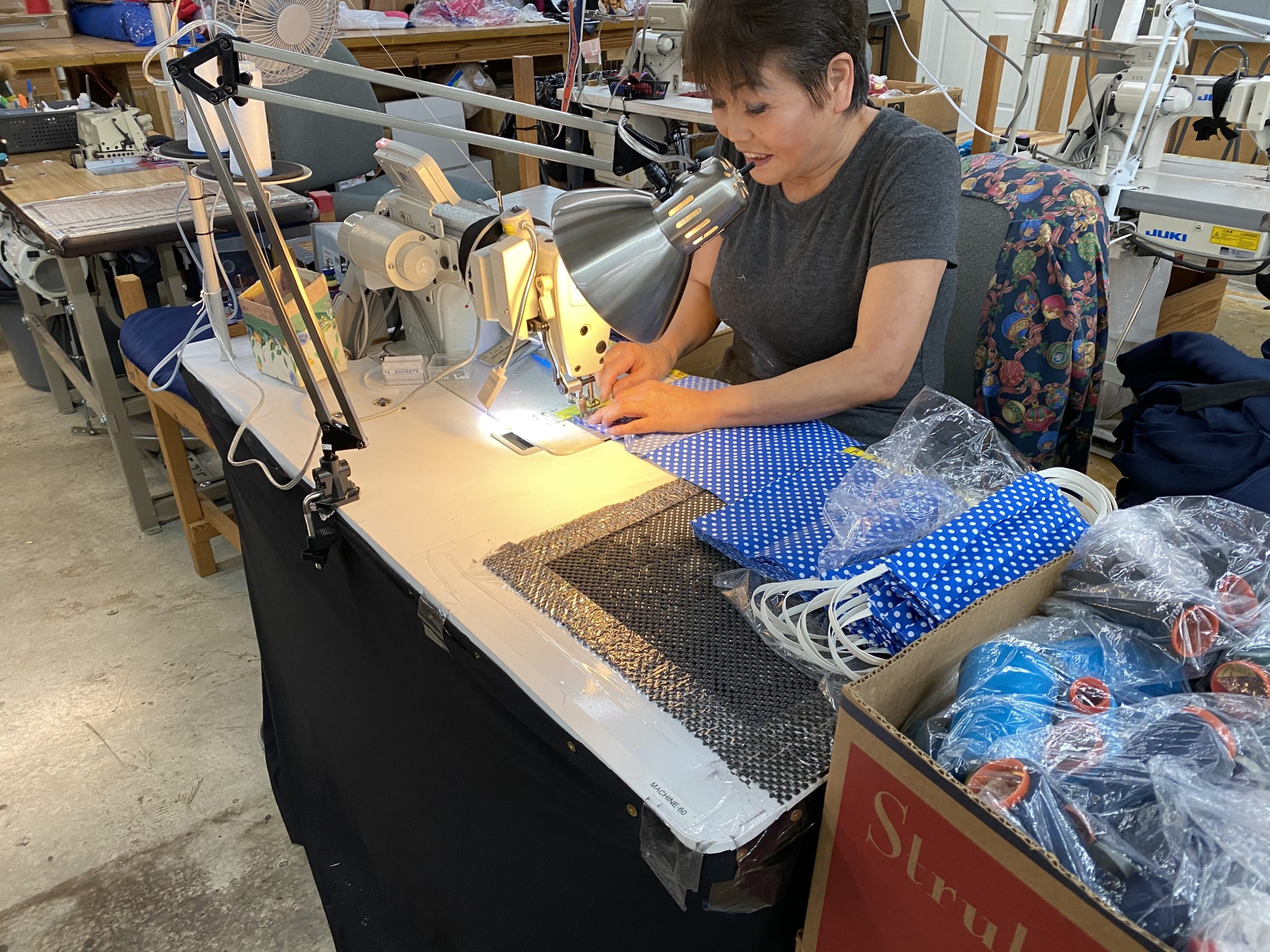 At Exenta, we continue to be amazed by our clients' creativity and generosity in a time of exceptional difficulty for our industry. As our brands and manufacturers step forward to support their community's needs for PPE (Personal Protective Equipment) they're also doing something invaluable for their employees by helping them maintain their livelihoods and giving them an opportunity to experience the lift in morale that comes from helping others.
This is the second of what we expect will be many stories highlighting our clients and the contributions they are making in their communities.
Southeastern Performance Apparel
In 1980, Southeastern Performance Apparel was founded to meet a niche apparel need, performance apparel for school concert and show choirs and orchestras. The company handles design, fabrication, manufacturing, fulfillment and customer support for schools in all 50 US states as well as 8 other countries. Southeastern employs 100 people in its Dothan, Alabama factory and is the first choice of choral and orchestra instructors who appreciate the company's commitment to providing excellent performance apparel and exceptional customer service. Southeastern has been an Exenta ERP client for over 5 years and we were fortunate to hear about their COVID-19 community support efforts from Marshall Crim, President and CEO.
Seasonal Slowdown as COVID-19 Spread in the US
There is a seasonal aspect to Southeastern's business and the company had entered its slower business time just as COVID-19 cases began to escalate in the US. With a busy season that ends in December, Marshall Crim is accustomed to a more subdued workplace environment in the month of March, but this year morale was noticeably lower, "In what is already a slow time for us, the psychological impact of the pandemic was also beginning to weigh on our employees' morale," said Crim.
Then, Crim received an unexpected request from the VP of Southeast Health, a regional hospital located in Dothan. The hospital was aware of Southeastern's manufacturing capabilities and approached the company with a request to help meet a need for masks. Based on CDC guidelines, the hospital determined that its risk factor could be reduced from a "medium" level to a "low" level if all patients entering the hospital were given a protective mask at the door. As is the case with health facilities everywhere, the hospital did not have an adequate supply of protective masks and need to conserve resources to protect medical staff.
Crim and the Southeastern team got to work right away. "The hospital gave us some specifications as well as a sample of outer fabric and the type of filter material needed to optimize effectiveness. We quickly made a few prototypes and moved from design to production in just two days," Crim shared. Initial production used material in stock that met specifications and Crim has since sourced specialized fabric for the masks, which are fashioned using the hospital's corporate colors.
Southeastern has been able to produce and deliver nearly 3000 masks a week. Initial deliveries of the masks were donated to the hospital who will soon begin purchasing them at cost from Southeastern, in turn helping the company keep its workforce employed in a time of national crisis.
Crim sees the best part of the company's efforts in the impact it has had on his employees who are coming to work with more of a "skip in their step" in recent weeks. "Creativity and innovation are embedded in our corporate values. I'm so proud of our team's ability to adapt our design and manufacturing to meet a need in the community where we all work, live and play," said Crim.
Exenta is honored to be a part of Southeastern's legacy of creativity and innovation on its traditional stage and in its new healthcare venue. When a company lives up to values of creativity, integrity and excellence, it will always rise to new opportunity. These values bring Southeastern success today and will carry the company far into the future beyond the pandemic.
Many apparel and home goods manufacturers are looking for opportunities to shift their production to meet community needs for PPE. If your organization would like to learn more, visit #StoptheSpread.
During Covid-19, several of our clients stepped up and supported their communities by developing PPE. Learn how Extena's software solutions can help your company contribute to the needs of the community during the Covid-19 pandemic.

Back