Exenta Client Healing Hands Donates Scrubs and Masks to Healthcare Workers
by Alexis Borucke | April 8, 2020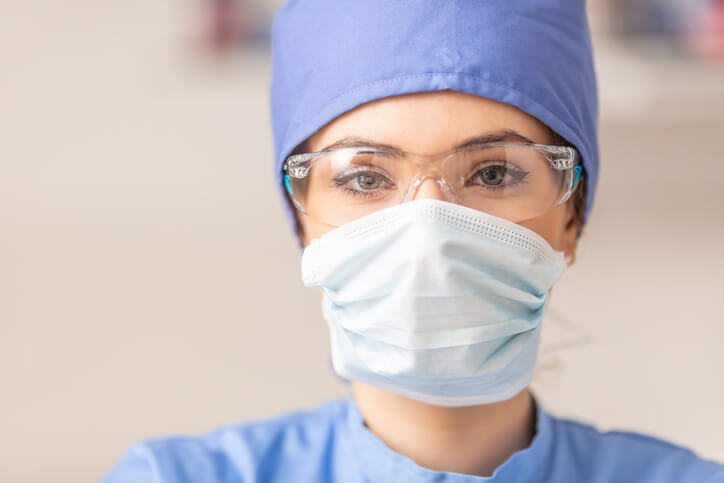 The news is full of uplifting stories of the contributions that organizations in the apparel industry (and other industries) are making to support healthcare workers amid the global pandemic crisis. Today at Exenta we are celebrating a client whose contributions hit a little closer to home. For over a decade, Healing Hands has designed uniforms for medical professionals with a focus on style, durability, and quality.
Healing Hands
Healing Hands got its start when founder Bansi Lakhani, then CEO of the sportswear brand Krazy Kat, was a hospital patient recovering from a massive heart attack. Bansi was overwhelmed by the kindness and care he received from his nursing team. But, as someone who knew quality design and fabric, he was also dismayed at the stiff material and boxy fabrication of their scrubs. Healing Hands was inspired by Bansi's experience and his desire to give nurses and other medical professionals uniforms that are affordable, comfortable, stylish, easy to care for and suitable for their active workdays. As a special touch, some are imprinted with inspirational messages to show appreciation for the talent and dedication of healthcare workers.
Healing Hands designs its scrubs and uniforms using Exenta's PLM REVO and relies on Exenta ERP to manage and fulfill orders.
A Passion to Support Healthcare Professionals
Today, Healing Hands is led by Bansi's son, Sid who took over as CEO and is carrying on the family tradition of care and commitment to medical professionals. Bansi now focuses his expertise on textile and design as the company's founder and Chief Product Officer. As Healing Hands watched the pandemic crisis enfold in March, his immediate concern was for healthcare workers, who are serving on the front lines fighting COVID-19. "Our company DNA is driven by my father, Bansi's commitment to care for and support the healing angels of healthcare," Sid shared. "His spirit and personal mission to give back to caregivers is the inspiration and motivation for everything that we do and never has it been so important to support caregivers than it is today."
Under Bansi's and Sid's leadership, Healing Hands mobilized quickly, sourcing and purchasing PPE, masks and other needed supplies from its manufacturing contacts around the globe and donating them to local hospital staff. "Consistent with our mission to care for the health care professionals who give so much to us, we wanted to do more," said Sid. On March 27th, Healing Hands announced that it would donate 10,000 medical uniforms to organizations in dire need. "Our nation's healthcare workers are risking their lives, working double shifts, coming out of retirement and living apart from their families," stated Sid. "At Healing Hands, we're proud to be able to support those who give so much to all of us." Organizations wishing to request uniforms from Healings Hands can do so by emailing heroes@hhscrubs.com. Healing Hands will also continue to work to source and donate PPE from around the globe and hopes its generosity will inspire others to deliver the same support.
Giving Back in a Time of Global Disruption
Healing Hands is giving back at a time when its own operations are experiencing disruption due to COVID-19. Located in New Jersey in an area that has been under Stay at Home orders for many weeks. Sid and the rest of the Healing Hands team are carrying on their important work remotely. At Exenta, we're humbled to be a small part of our client's generosity as Healing Hands relies on our ERP to manage and fulfill the donation requests received and continues work on its next season of healthcare uniforms through PLM REVO. "Being able to use both the Exenta ERP and PLM solutions remotely has greatly eased the transition to virtual work for our teams. Exenta ERP is the backbone of all our systems and I'm particularly pleased that we have had a web-based PLM to support our designers," shared Sid.
For more information on Healing Hands and the contributions the company is making to support medical professionals, visit https://www.instagram.com/HHScrubs/. If you represent a fashion, apparel or soft goods company that would like to make a contribution to support hospitals in your area, most hospital websites have set up donation pages that state critical needs including masks, scrubs, gowns and other forms of PPE. Healthcare workers' needs don't end with PPE; most hospitals are also accepting donations to cover meals, groceries, lodging, transportation and laundry services. Regardless of your industry, your organization can play a part in helping to end COVID-19. As Sid said, "let's beat this together!"
Learn how a good ERP and PLM system from Extena can help your company make a difference and give back in your area today!

Back