Today, more than ever, success in your marketplace may be defined by how quickly and capably you can disrupt it.
Innovate Without Limits™ and facilitate the collaborative power of your employees, customers and partners. Through Exenta's Innovation Lifecycle Management solution, Exenta Innovation HUB™, you can revitalize your product offerings and production processes with fresh ideas. Our robust collaboration software delivers visibility to every stage of an initiative, from inception to impact.
By leveraging the Exenta Innovation Hub, your teams are empowered to generate ideas that deliver measurable business value through a solution that tracks them through your innovation pipeline, from submission to testing and from launch to ROI reporting.
The result: a thriving organizational culture, renewable revenue streams, and vital market response, all at a fraction of the cost of traditional enterprise solutions.
Are you ready to be first to market with the product or concept that takes your space to a new level?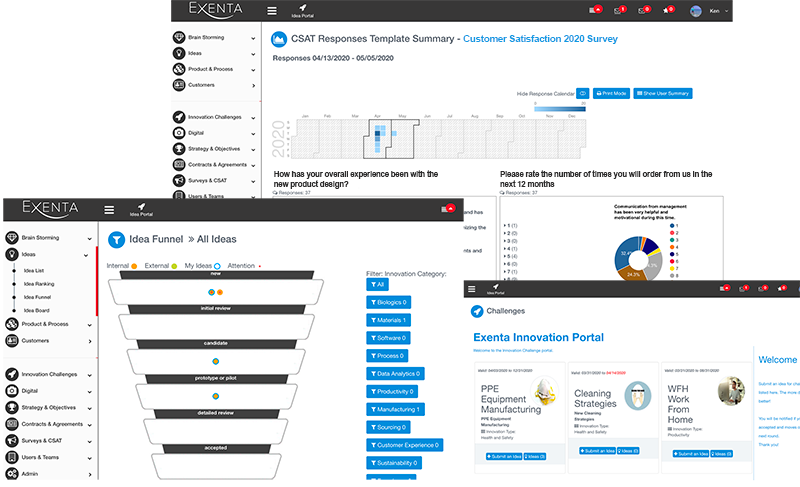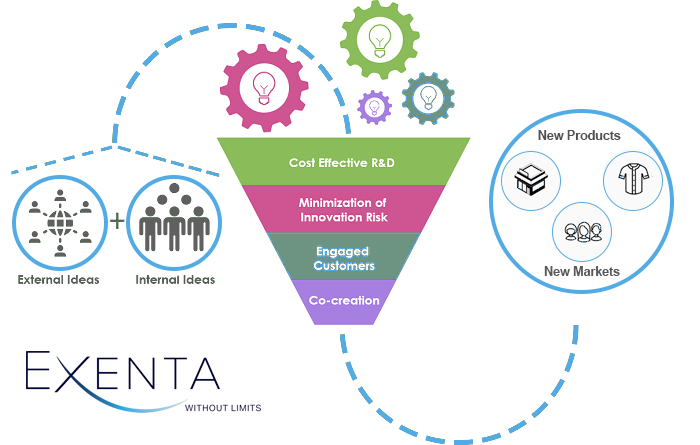 Exenta's Innovation Management Solution
Improve quality and quantity of ideas
Engage employees and customers
Track expense and ROI for all aspects of Innovation at all levels
Enable collaboration and partnering
Leverage a robust, easy to use platform, available on any device
Innovation Challenges
Define innovation challenges for internal employees and your customers
Review and rate ideas, refine ideas with guided navigation leading to a pitch deck and preliminary business plan.
Develop, shape, plan and track ideas of all levels, regardless of your organization's size or complexity
Innovation Lifecycle Management
Grow your pipeline of ideas with surveys, portals, brainstorming sessions, focus groups and innovation challenges
Track ROI from concept to market
Operate within an innovation workflow, tracking IP and costs of every stage
Partner & Collaboration Software
Partner with 3rd parties and academic institutions to form Innovation teams with specific innovation challenges
Align on IP ownership, roles and responsibilities
Track and save collaboration assets and communications
It's your choice. Stay with an inefficient legacy system and isolated data streams, or make the move to our next-generation enterprise technology and take your business into the future.
Related Articles