Why the Pandemic Has Fashion Brands Creating Smaller Collections- With Better Results
by Nina Davies | June 8, 2021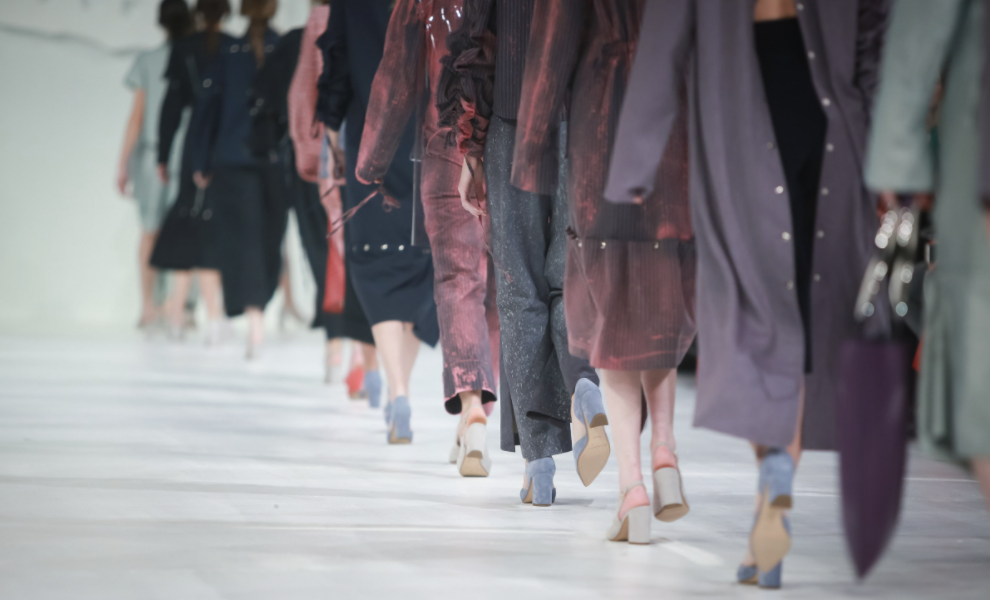 In 2019, the fashion industry was barreling forward into fast fashion and seasonless shopping. Suddenly, everything was put on pause, including consumers' desire for new clothes. Layoffs and stay at home orders forced people inside with nowhere to go and no reason to shop. On March 16, 2020, the Dow Jones Industrial Average fell 7.9%, and trading was temporarily halted. "Among those hit hardest by the decline were G-III Apparel Group (down 27.1 percent to $11.07), Capri Holdings (down 26.2 percent to $10.29), RealReal Inc. (down 19.3 percent to $7.02), Tapestry Inc. (down 19.3 percent to $13.10) and Nordstrom Inc. (down 17 percent to $17.93)". Retail sales fell nearly 9%, with clothing sales dropping by over half, as stated by the Census Bureau in April. According to The New York Times, this was the largest drop in one month for retail since the 2008 financial crisis.
In April, apparel sales were down nearly 60% from 2019. The future of fashion was looking dim, and industry leaders recognized that drastic changes needed to be made across the supply chain in order to survive.
A Fashion Industry Overhaul
The coronavirus pandemic has forced consumer buying habits to change, and according to a study by The Nines, apparel categories such as sweatshirts and pullovers accounted for $112.4 billion in sales in 2021. Comparatively, blazers made only $36.4 billion in sales in the same year. While there is no question there has been a considerable surge in demand for comfortable clothes, it has not been enough to make up for the damage the pandemic has done to the fashion industry and global economy. What retailers and manufacturers are now beginning to focus on is the change happening with how and where consumers shop. How we buy has become a major focus for fashion manufacturing companies looking to stay ahead and survive the effects of the pandemic, as 40% of all sales will soon be digital, according to Anita Balchandani for McKinsey & Company. The industry was already on the fast track to e-commerce and supply chain digitalization, but the events of 2020 have given companies a bigger push. With a majority of people around the world working from home, online shopping sales skyrocketed, and the industry's digital reliance grew. Now, retailers and manufacturers are seeing the benefits of a more digital supply chain, including reduction in overproduction and overhead costs, increased efficiency, accuracy and overall communication and collaboration across the supply chain.
Overproduction is not a new issue for the fashion industry, but with the recent push to digitalization and consumers' pressure to be more sustainable, companies are needing to address these issues to stay in business.
Quality Over Quantity
According to a 2020 Forbes article, overproduction in the fashion industry typically runs between 30% and 40% each season. While the business as a whole has over $2 trillion in global annual revenues, it has become imperative for fashion manufacturing companies to streamline productions and reduce costs in order to survive. Not only is overproduction costly, it is not sustainable. The pandemic highlighted just how bad the fashion industry-specifically fast fashion and a seasonless production schedule-is for the environment, and consumers have begun pushing brands to reduce their carbon footprint.
So what is sustainable fashion?
Sustainable fashion refers to apparel that is designed and produced using practices that are environmentally friendly. Brands that practice sustainability in their supply chains understand that the materials they use and how the produce their garments matter. Consumers have started pushing for industry leaders to reduce their carbon footprints, resulting in many companies making environmental pledges, changing their fabric sourcing, using more organic materials, and more.
Navigating the new retail world: The Less is More Approach
One way that is growing in popularity for brands to improve their sustainability is a reduction in product. The industry is realizing that more merchandise does not necessarily increase profits. Companies are beginning to reduce inventory levels with a more integrated, digital system. Designers are producing more slimmed down fashion collections, and designers such as Jacquemus have done two seasonal fashion show collections instead of four, each including both menswear and womenswear together.
While this is a step in the right direction, becoming more sustainable can be costly to fashion companies. They need a solution that allows for cutting costs and increasing efficiency while being able to keep their doors open. Reducing consumption and production is imperative if businesses want to become more sustainable, but how can this be done while retaining their bottom line? The answer may be on-demand manufacturing, also called made to order fashion. On-demand manufacturing in the fashion industry is a method of production where garments are manufactured only when they are ordered. Retailers will not order garments seasons in advance, but rather wait until the customer directly places the order. Traditionally, the industry has used wholesale manufacturing, where bulk orders are placed weeks or months in advance. While this model has worked for years and still works for some companies, it can result in large amounts of dead stock, waste, and overhead costs. "According to data from the Environmental Protection Agency, US landfills received 11.3 million tons of MSW textiles in 2018." With the growth in e-commerce, the on-demand manufacturing model is one way to reduce costs and support a more digital supply chain. To support on-demand manufacturing and e-commerce, fashion manufacturing companies need an advanced, integrated software system.
Strong fashion manufacturing software is essential to on-demand manufacturing and drop shipping. All parties involved in the product supply chain need accurate, up to date inventory and sales data to make the right decisions and avoid waste.
The Exenta Approach
In the new era of e-commerce and digital supply chains, it is important for businesses to have a strong back-end system like an Enterprise Resource Planning (ERP) or EDI. An ERP system provides a centralized source of truth that helps connect other business systems for analysis and planning. The right ERP helps fashion companies optimize financial management and reporting and plan for materials requirements. Exenta ERP automates tracking and reporting—leading to as much as a 20% reduction in administrative labor hours.
EDI enables two companies to exchange information instantly about orders, payments, inventory, shipments, production orders, and more. With Exenta EDI, fashion apparel brands benefit from a fast pipeline of timely, mission-critical information about production, inventory, warehouse logistics and retail, while reducing error-prone data entry. In addition to enhancing visibility while reducing costs, brands that leverage EDI in supply chain management position themselves to do business with the world's largest retailers and e-commerce platforms, many of whom require EDI as their standard for information exchange.
2021 has become a transformative year for fashion. The pandemic became a major disruptor for the industry, forcing retailers, wholesalers, and designers alike to take a step back and see what was necessary to uphold brand longevity and their bottom lines. Sustainability and digitalization, once trends, have now become the future of the fashion industry. See how innovative, state-of-the-art supply chain software can help your company thrive in the future, request a demo today. 

Back