The Best Apparel Software for Small Businesses
by Nina Davies | May 27, 2021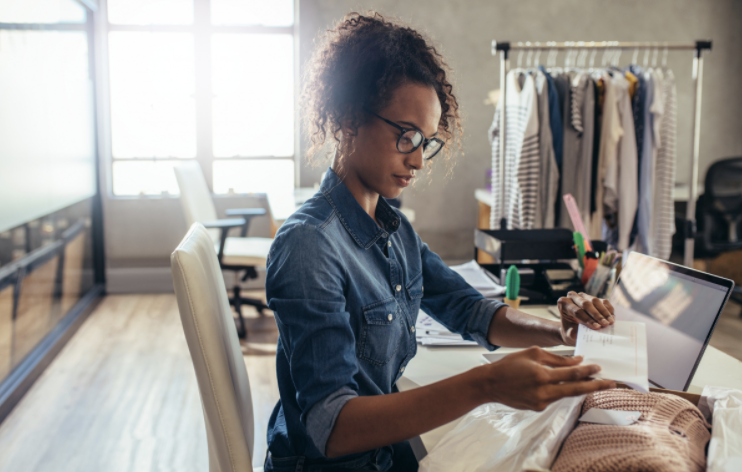 Digitally-native brands are taking a bigger share of the retail apparel market. As more consumers shifted shopping preferences in favor of e-commerce during the pandemic, many smaller brands with exclusively online channels experienced an uptick in sales. Smaller, digitally-native brands were also more nimble and in some cases were better able to shift production and inventory to meet the changes in demand driven by the pandemic. Now that consumer demand is moving closer to pre-pandemic levels, many consumers have indicated a preference to stick with online retailers and smaller, niche brands need to consider how they will scale operations to compete. Technology can provide these smaller retailers with the ability to meet consumer expectations and keep pace with the demands of the marketplace.
Now more than ever, apparel companies need the efficiencies delivered through apparel management software systems to operate profitably. Inventory and order management software can save smaller brands valuable time. If a brand is lean in back office staff, an ERP solution can take the place of added headcount while simultaneously delivering many other benefits.
When smaller apparel companies decide to take the plunge towards digitalization, they are often faced with some difficult, and potentially costly, decisions. To experience the full benefits of integrated apparel software, companies need to choose the right software for them, and for smaller companies, the right system is one that fits the company's needs not just today, but also in the future. Many apparel management software solutions do not offer flexibility or scalability, both of which are necessary for small apparel companies who wish to grow.
What apparel software works best for a small business?
An apparel production company may already be using a system that worked for them at the time of implementation, but they have since grown and the system is no longer scalable. It is important for a company to have a system that can grow with them to avoid reinvestment or additional costly add-ons. The right apparel software can deliver great results with for both large and small apparel businesses.
Exenta has considerable expertise in supporting smaller apparel businesses. Brands with fewer than 30 employees have implemented Exenta apparel software and experienced great gains in efficiency and visibility. Some of our small apparel business clients implemented Exenta software with just 5 users, and have grown over time, adding users and expanding inventory, all while continuing to use the same system that was initially implemented with no need for add-ons.
Enterprise Resource Planning (ERP) software makes it easier to manage apparel business processes for products that are being designed, manufactured, or sold. Exceptional ERP software is essential for companies wanting to streamline processes and manage costs. Exenta's apparel industry-specific ERP delivers the most advanced technology in the apparel ERP space and does not require additional plug-ins for the initial system after integration, no matter the company size. For many small apparel businesses, e-commerce platforms are an essential part of success and efficiency. Exenta ERP provides end-to-end support for most e-commerce systems, making integration easy and cost-effective, even as the organization's needs expand and adapt over time.
Product Lifecycle Management (PLM) is another apparel management solution that can deliver great benefits to small apparel businesses. Exenta PLM REVO initiates an efficient path from concept to consumer by eliminating tedious data entry and automating many time-consuming aspects of the design and processes. Because PLM solutions help smaller apparel companies accelerate products to market faster, they provide the opportunity for a smaller business to keep up with competition (often companies with more workers and larger budgets) while retaining their bottom line. Exenta's cloud-based PLM REVO has a minimal upfront investment and can be implemented quickly, so that a small apparel business can begin experiencing the benefits in weeks, not months.
Shopfloor control (also known as manufacturing execution or MES) software provides unparalleled production data, allowing smaller apparel manufacturers better control over the manufacturing process, to eliminate waste and inefficiency. Exenta Shopfloor Control is  ideally suited for small apparel manufacturers because it is not IT intensive and requires low technical investment, while still tracking, scheduling and reporting on the progress of everything from manufacturing and assembling to product processing. Exenta's apparel manufacturing software delivers a record-fast return on investment.
A small business needs an apparel software company that can be a trusted partner. Exenta software solutions provide the support, flexibility, scalability, and data access small apparel businesses need to grow while keeping their bottom line and increasing efficiency.
Learn more by requesting a demo today.

Back