How to Effectively Make the Transition from Retail to E-commerce
by Nina Davies | February 25, 2021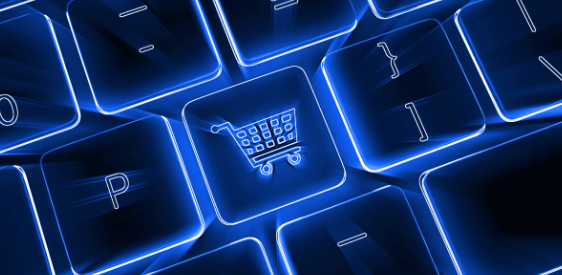 E-commerce is the future of shopping
Online shopping has risen steadily over the last decade, and the Covid-19 pandemic has given it an unprecedented push. According to Digital Commerce 360 estimates, consumers spent $861.12 billion online with U.S. merchants in 2020, which is a 44% increase year over year. The publication states this is "the highest annual U.S. e-commerce growth in at least two decades. It's also nearly triple the 15.1% jump in 2019". Worldwide, retail e-commerce sales grew by a staggering 27.6% last year. In 2021 there is a further projected 14.3% growth according to Prolific North. In 2020, COVID-19-related boosts in online shopping resulted in an additional $174.87 billion in e-commerce revenue. Statistica predicts that e-commerce revenue will surpass $638 billion in the U.S. by 2022.
While e-commerce popularity grows, brick-and-mortar shopping continues to decline. Department stores have been on the decline for a few years now, and the pandemic sped up the process. In 2019, retailers in the United States announced 9,302 store closings, a 59% jump from 2018. While the coronavirus pandemic had a negative impact on in-store shopping with retailers closing and states issuing stay-at-home orders, this opened up an opportunity for sales through another channel – online. During quarantine, consumers began shopping online at an unprecedented rate, purchasing food, puzzles, athleisure clothes and anything in between. While vaccinations have begun to roll out across the country, officials warn the virus may not be going anywhere anytime soon, and consumers are expected to use e-commerce as their first choice for shopping. According to a recent Prosper Insights & Analytics Survey, nearly 47% of adults have changed their shopping behavior because of public health concerns.
As consumers trade in retail stores for online, it is more important than ever for companies to have strong e-commerce platforms if they want to survive. Amazon, a digital retail giant, is projected to hold the top spot for web sales in 2021. While most companies don't carry the same vast and diverse inventory as Amazon, there are other things that drive the e-commerce behemoth's peerless success in the digital market. A few to focus on are: fast site speed, a simple checkout process, strong customer support technology, easy returns and reliable management software.
Strategies to ensure customers have an optimal shopping experience
For companies looking to transition from retail to e-commerce, the optimal shopping experience is essential. This includes speed, accessibility, and accuracy.
 Optimize your site speed
For online consumers, speed is essential in the shopping process. Often, online purchases are driving more by impulse and/or convenience than careful planning and analysis, and companies can quickly lose a frustrated customer to a faster competitor's site. According to Google's mobile page speed study, a site's bounce rate ticks up every second a visitor waits for a page to load. The future of fashion is digital, and optimizing site speed is critical. A study by Skilled found that:
Of those studied, 79% of shoppers that were "dissatisfied" with a site's performance were also less likely to buy from the retailer's site Consumers have high expectations for their online buying experience as they still typically prefer the in-person shopping experience. While a bad site performance can steer shoppers away from a retailer, that does not mean they will avoid their brick-and-mortar store.
64% of smartphone users expected a website to load in four seconds or less.
47% of online shoppers expected web pages to load in two seconds or less
Another Skilled study found that web speed improvement of mere seconds could generate thousands of dollars daily for companies. Clearly, every second counts in e-commerce. Tips for retailers looking to optimize site speed include:
Using a fast e-commerce platform
Finding a reliable hosting provider, and
Reducing pop ups on product pages
Shopify, a well-known e-commerce platform, offers many suggestions and solutions to improve performance. To manage e-commerce successfully, it's also important to use a POS that can sync with a back end ERP system which  consolidates information and ensures a good customer experience with ease of use and speed.
Make the checkout experience simple and secure
Checkout is another essential part of the shopping experience for the consumer. As mentioned above, it is important for customers to be able to check out easily and quickly online. To do this, companies need a good e-commerce platform that is intuitive for both customers and the employees who manage it. When a great e-commerce platform also integrates with an ERP that tracks inventory and production in real time, consumers are able to know when products will be available and can have accurate and realistic expectations on when to expect delivery. This level of integration eliminates frustration for customers and ultimately leads to a satisfied repeat customer. 
Use technology for efficient customer support
Good technology is essential for companies transitioning to online. Not only does it help connect sellers and customer on mobile and web platforms, but also enables the effective management of customer orders, deliveries, returns and payments of purchased goods. Technology plays an essential role throughout the e-commerce value chain, and finding the right technology for your company is indispensable.
Having reliable management software
When shifting from primarily retail to e-commerce, companies must prioritize speed and customer experience. To do this, companies need a strong supply chain supported by modern technology. An inefficient supply chain or poor visibility into supply chain stages can make the difference between profitable growth or business failure, especially when transitioning to online sales. Only by leveraging technology to increase efficiency and visibility throughout the supply chain can companies remain competitive in this primarily digital era.
By combining leading innovation in PLM, Shop Floor Control, ERP, EDI, WMS, Third- Party Manufacturing, and Vendor Portals, Exenta has created the most sophisticated end-to-end, complete Supply Chain Management platform for the fashion and soft goods industry. Up and down the supply chain, Exenta's Supply Chain solution suite improves digital communication and collaboration between fashion brands and supply chain partners including suppliers, 3PMs, warehouses, and retailers. Real-time visibility across the entire supply chain helps continuously optimize operational decisions, improve agility, and balance competing demands for cost, speed, and quality.
Keep your competitors guessing and have a high-performance e-commerce platform using Exenta's state-of-the-art manufacturing and production software. Request a demo today!

Back