How the Fashion Industry Must Adapt in a Post-Covid-19 World
by Nina Davies | December 8, 2020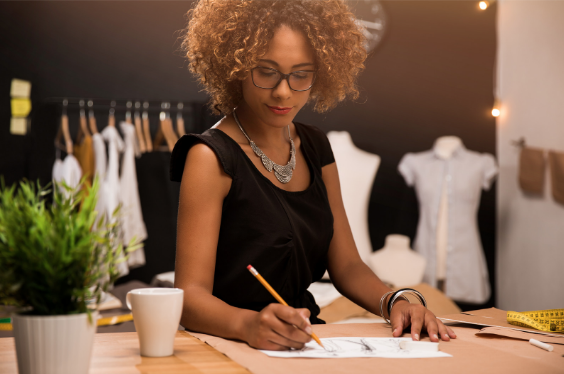 Covid-19: How it started and where it is headed
According to the CDC, the first laboratory-confirmed case of COVID-19 in the United States was recorded on January 20, 2020, and reported to CDC on January 22, 2020. Since then, over 65 million cases have been reported worldwide and over 1.5 million fatalities. As countries around the world began to shut down last spring, cases seemed to decline or level off. However, the economic damage was far from over. With new shutdowns taking place in some parts of the US as the country experiences a new surge, the fashion industry may face its biggest pandemic threat yet during the traditionally profitable holiday season.
The pandemic has caused the largest global recession in history, with more than a third of the global population at one time being placed on lockdown. Supply shortages due to panic buying of supplies, price gouging, and delays in shipments of a variety of goods are all issues that emerged around the world and have continued sporadically in recent months. In February, stock markets worldwide saw their largest single-week declines since the 2008 financial crisis, according to CNN Business.
Now, as many parts of the world enter winter, cases have spiked again. According to CNBC, daily coronavirus cases have now topped 200,000 for the first time in the United States as of early December, and hospitalizations topped 100,000 for the first time.
The Impact of Covid-19 on the Fashion Industry
The virus continues to have a negative impact on the fashion industry as a whole. Brands and designer houses have shut their doors and postponed upcoming fashion shows. Popular fashion brands such as Brooks Brothers, Lucky Brand, and J-Crew have filed for bankruptcy. Around the world, department stores such as Neiman Marcus and Saks Fifth Avenue have permanently shuttered some locations. WWD states that fast fashion brands such as H&M report sales dropping nearly 60% from March 1st to May 6th due to a majority of its stores closing and consumers pushing for more sustainable practices. (https://wwd.com/fashion-news/fashion-scoops/how-coronavirus-effecting-fashion-industry-trade-shows-stock-prices-1203508244/)
Fashion companies aren't the only ones reeling back. Consumers have been forced to reduce or change their spending dramatically. While high heels and work attire stay sitting on shelves, loungewear and workout wear is selling out. Consumer behavior is quickly adapting to these unprecedented times, and while some types of clothing and cosmetics are seeing double digit declines in consumption rates, online shopping has become all the rage. According to JP Morgan, "the pandemic has pushed more shoppers online, with e-commerce now accounting for 16.1% of all U.S. sales, up from 11.8% in the first quarter and this trend is likely to stick, even as brick-and-mortar stores open their doors again."
While the trend towards e-commerce is evident and most companies have expanded their online presence, many still have not. PayPal Newsroom states that nearly "half (47 percent) of fashion retailers have not adjusted their e-commerce approach since the start of COVID-19, despite a massive consumer shift toward online shopping".
But why?
Fast Fashion as we Know it Isn't Going to Cut it Anymore
Many fashion companies would have to completely reinvent their supply chain in order to support an expanded online presence. Not only is it essential to many consumers to not go shopping physically in store for their own safety, but they also want it delivered at the rate they were provided pre-pandemic.
As this second wave of COVID-19 cases hit, the fashion industry is beginning to realize that this pandemic is far from over. Instead of surviving, fast fashion companies must adapt. Companies must now streamline their supply chains, reduce person-to-person contact, and keep profits to survive. Global Trade Mag states, "It's no longer unusual to see Summer dresses on the shelves in February and Winter coats in the stores before August is out. And yet consumers, bombarded with the latest fashion trends at all hours of the day via social media influencers and celebrities, want fashion they can wear now, not in months' time. In order to stay relevant, retailers are pressured to buy stock months in advance of when it's needed, and then end up having to sell it off at sale prices just as it's coming into season so they can introduce the never-ending round of latest trends." After months of lockdowns, the fast fashion industry is finally forced to slow down and change their ways.
Sustainability has become a hot topic for consumers over recent years, and Coronavirus has amplified it. As consumers around the world look to each other for support and survival, they have begun to realize now more than ever the impact fast fashion has on the environment. Constant overproduction of fast fashion to keep up with trends has heavily impacted the planet on a global scale. Millions of tons of waste from clothing go to landfalls each year, and millions of gallons of water are contaminated with chemicals from fabric treatments then dumped in oceans and rivers. Knowing this, consumers are now demanding change from retailers.
The COVID-19 pandemic has forced the entire fashion industry to finally stop, address its issues, and start looking for solutions to benefit both the company and their consumers. In order to do this, fashion companies must look to technology.
How Fast Fashion is Adapting with New Technology
In order to become more sustainable, fast fashion companies need to adjust their supply chains. "There is an underlying demand for retailers to not only be more transparent but to also make the information they are providing as accessible as possible for the average consumer," Samantha Dover, a senior retail analyst at market research company Mintel, tells CNN Business. This has led to some brands using blockchain technology to track their supply chains. This online public platform creates a permanent and unchangeable record of transactions by time-stamping them and making them unable to be altered. A t-shirt manufacturer in England shows CNN Business how they use robots and technology on the production floor to manufacture only what is needed by consumers, therefore reducing waste. They take it a step further and offer free postage to customers who return unwanted items, rather than throwing them out.
So, what are other ways technology can reduce waste and hinder the spread of COVID-19 while increasing productivity and profits?
In fashion and soft goods manufacturing, effective workforce management is key to meeting customer expectations. Whether a brand operates its own manufacturing facilities or contracts with third-party manufacturers (3PMs), customer relationships are built on keeping a promise to deliver the right products at the right time and the right price.
Shop Floor Control MES software tracks the progress of production throughout sewing operation, giving supervisors, managers and workers real-time information and notifications regarding WIP, including many aspects of workforce management such as employee productivity, labor costs, and pay rates. When Shop Floor Control MES is used, employees can scan barcodes on pieces or garments rather than writing everything down in a notebook or using gum sheets. This results in an immediate efficiency improvement, along with enhanced decision-making capabilities. Exenta Shop Floor Control MES leverages an innovative Android™ app, management dashboard, and off-the-shelf tablets running on Wi-Fi to collect production data and empower workers, supervisors and managers with up to the minute production visibility and control. Having this software on the manufacturing floor allows for less person-to-person contact, as each worker's tablet sends real-time information to all sectors of the manufacturing floor. Shop Floor Control MES also enables sewing operations to experience productivity gains from 11% to more than 40%.
Exenta Supply Chain Management (SCM) technology provides the real-time information companies need to make critical decisions that affect the business, its customers, and the bottom line. SCM allows collaboration with vendors by sharing access to tech packs, product documents, and images.
Exenta SCM software allows users to maintain control over schedules and costs with real-time visibility into product development, planning, procurement, production scheduling, inventory, and WIP. Pinpoint exactly where adjustments in the supply chain could make a positive impact on timeliness, quality, and costs.
Keep your company ahead with advanced state-of-the-art software. Click here to request a demo.

Back