Four Biggest Problems Facing Fashion Manufacturers and How a Dedicated ERP System Can Help
by Alexis Borucke | September 18, 2020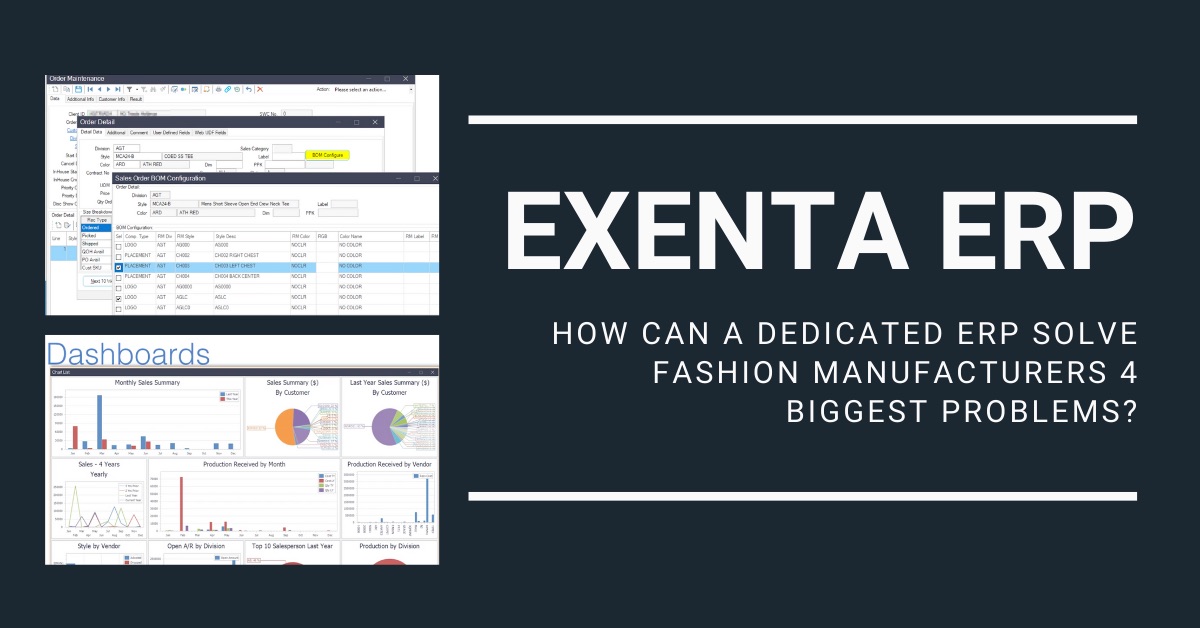 Digital disruption is redefining the fashion industry from product sourcing, labor, and supply chain to sales and distribution. To be successful in today's market, "brands need a digital mindset to cater to their consumers" and manufacturers must respond effectively to rapid changes impacting operations, finances, and production. Recent research from McKinsey notes that fashion manufacturers must find ways to become more resilient and take action to increase productivity, operational efficiency, and financial flexibility.
Learn more about the four biggest problems facing fashion manufacturers and how dedicated fashion ERP software can help.
What is fashion ERP software?
Enterprise Resource Planning (ERP), whether it's called fashion ERP software or apparel ERP software, is a business system that manages finances and production resources. Because it's an end-to-end solution, ERP for apparel industry emboldens responsive supply chain operations, better informed decision-making, and increased sales and margins. Using apparel ERP software, businesses:
• Streamline order-to-cash
• Improve financial controls
• Automate critical processes
Read on to see why fashion supply chain ERP software is uniquely positioned to help fashion manufacturers overcome four issues causing industry disruption.
Four problems facing fashion manufacturers
1) Responding to consumer shifts. Consumer behavior and preferences change fast and it can be difficult for manufacturers to keep up with appropriate inventory levels. Smaller orders with fast turnaround times can put pressure on raw material needs, quality control, and labor costs. As a result, manufacturers can be caught off guard with quick changes in demand causing unexpected increases in costs across the entire supply chain. Fashion ERP software allows you to integrate processes and information to embolden more responsive supply chain operations and higher levels of collaboration.
2) Product sourcing. Cost-effective product sourcing is now essential in the fashion industry. But it can be difficult for businesses who source internationally to keep up with the politics, trade regulations, culture, and financial issues that are essential to the success of your business. Apparel ERP software enables you to track and manage all of the costs associated with sourcing raw materials and production including transportation, tariffs, and more. Plus you can add on a vendor portal solution to your ERP to automate the procurement and bidding process and optimize the sourcing process to meet your business needs and requirements.
3) Sustainability and minimizing waste. Fashion businesses want to incorporate more sustainable practices to fight against waste and reduce their carbon footprint. Fashion ERP software enables you to manage and control costs during the manufacturing process to minimize unused raw materials like fabric scraps, increase labor and line efficiency, and reduce chargebacks due to quality issues.
4) Financial flexibility. Apparel ERP software helps drive innovation. With real-time data and analytics, you can analyze bottlenecks in your operation and solve these unique issues. ERP helps you make faster, more accurate, and better-informed decisions about your business.
How does ERP drive fashion manufacturing success?
Exenta ERP helps you manage your entire business and supply chain. It provides real-time visibility and control, increased productivity and efficiency, and speeds on-time deliveries. When used together, product lifecycle management ERP and SFC (shop floor control) combine to optimize the supply chain. Product lifecycle management (PLM) enables fashion businesses to track product information changes and communicate those changes to appropriate parts of the supply chain. ERP takes that information to manage the resources needed for production and tracks and reports on the financial impacts of those changes. SFC provides real-time plant visibility and control to improve your manufacturing execution processes.
Use ERP to analyze data and drive innovation
More fashion and apparel businesses are looking for new and practical ways to optimize the supply chain, drive efficiency, and increase access to real-time information. Exenta provides end-to-end software solutions that drive speed to market for the fashion and apparel industry. We help you meet ever-changing customer demands and provide greater supply chain control and visibility. For more information, contact us today for a free demo and find out how our innovative solutions will maximize your business potential.

Back