PLM vs. ERP: What Are the Differences and How Can They Both Benefit Your Fashion Manufacturing Company?
by Alexis Borucke | August 25, 2020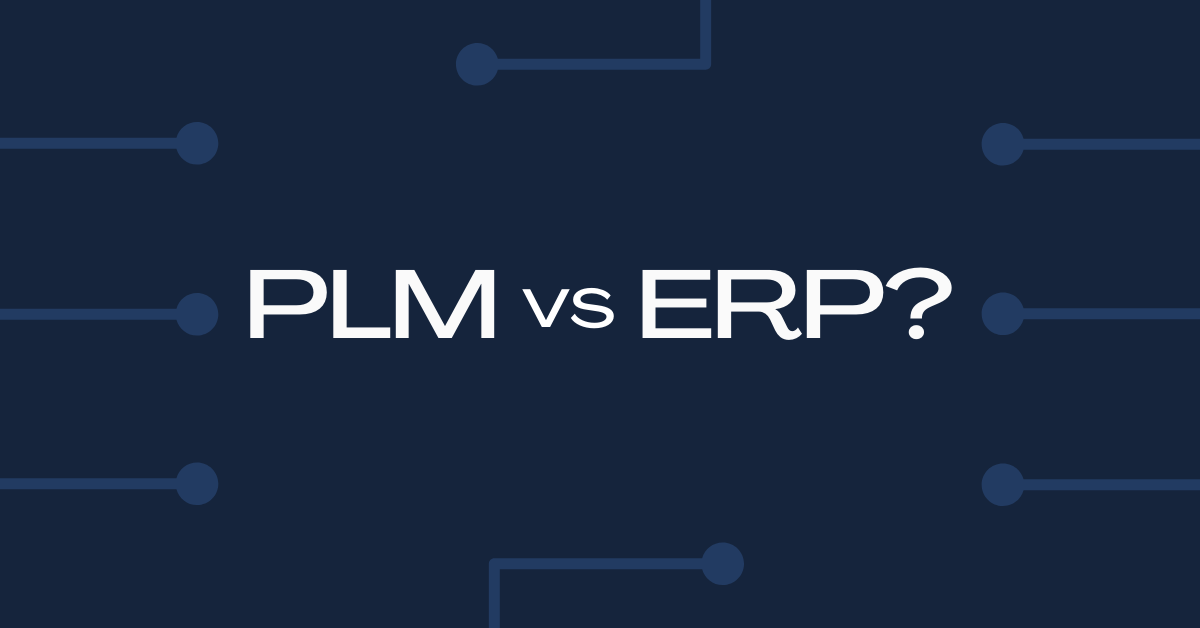 The estimated worth of the global fashion industry was about $2.5 trillion in 2017, yet most apparel manufacturers deal with razor-thin profit margins. RIS notes, "few supply chains are as dynamic as those relied upon by the fashion industry…speed and cost efficiency are both critical" as businesses manage numerous products, suppliers, and shifting consumer demand. That's why more forward-thinking fashion and apparel businesses are leveraging technology to drive the visibility, speed, and accuracy needed to adapt to evolving customer demands and increasingly competitive industry landscape.
The good news is that there are many fashion-industry-specific software solutions on the market to help your business improve control, minimize costs, and improve productivity. With so many choices out there, choosing the right solution to meet each business need can be overwhelming. Sometimes different solutions appear to manage the same functions or provide the same benefits. All too often, manufacturers are led to believe that ERP for the apparel industry can help with fashion PLM when in fact, they are very different. In this post, I will provide an overview of Product Lifecycle Management (PLM) and Enterprise Resource Management (ERP) as well as a comparison of PLM vs. ERP. Discover the details behind each solution, their benefits, and how PLM and ERP work together to enhance collaboration and improve business performance.
What is an ERP and how does it work?
ERP, whether it's called fashion ERP software or apparel ERP software, is a business system that manages finances and production resources. Fashion ERP software is an end-to-end solution that emboldens responsive supply chain operations, better informed decision-making, and increased sales and margins. Using fashion ERP software, businesses:
• Streamline order-to-cash
• Improve financial controls
• Automate critical processes
What is PLM or PLM fashion software?
PLM, also known as fashion PLM software and apparel PLM software, manages all the information related to your product or style throughout the product development process—including concepts, work-in-process, and revisions. Fashion PLM software keeps designers creative by eliminating tedious data entry, automating processes, and enhancing collaboration to speed products to market. PLM fashion software manages all aspects of the product lifecycle from conception and design to production and distribution. Businesses use fashion PLM software to:
• Streamline the development cycle
• Reduce product costs
• Track and manage calendar
How do ERP and PLM work together to drive fashion manufacturing success?
The fashion and apparel industry must manage a large range of size and color combinations and materials from a design and production perspective—as well as a stay on top of sourcing strategies and efficient production at various facilities. PLM enables fashion businesses to track product information changes and communicate those changes to appropriate parts of the supply chain. ERP takes that information to manage the resources needed for production and tracks and reports on the financial impacts of those changes.
Integrating ERP and PLM provides greater visibility across fashion business operations by delivering accurate, up-to-date product data to stakeholders. Business and finance managers have greater visibility into product launch timing so they can better manage cash flow and plan sales, purchases, inventory, facilities, and more.
By integrating ERP and PLM, your business gains seamless control of product development, business financials, and manufacturing processes. PLM enables you to keep up with the latest trends and gets your products to market as fast as possible—while minimizing costs and enhancing quality. One important transition event between PLM and ERP is the creation of production orders.
While the design process may be finalized within the PLM system, production orders are created and managed within your ERP. Once your design and style are complete, an ERP system can help you procure the materials you need at the best price. Fashion ERP software manages financial information and organizes reporting for order processing, purchasing, accounting, inventory management, and manufacturing management.
Automate Your Fashion Supply Chain
More fashion and apparel businesses are looking for new and practical ways to optimize the supply chain, drive efficiency, and increase access to real-time information. By integrating PLM and ERP, you'll better manage information at every stage of design, manufacturing, and distribution.
Exenta provides end-to-end software solutions that drive speed to market for the fashion and apparel industry. We help you meet ever-changing customer demands and provide greater supply chain control and visibility. For more information, contact us today for a free demo and find out how our solutions can help you maximize your business potential.[/et_pb_text][/et_pb_column][/et_pb_row][/et_pb_section]

Back