Six Reasons Why Efficient Shop Floor Control is the Key to Fashion Manufacturing Success
by Alexis Borucke | August 17, 2020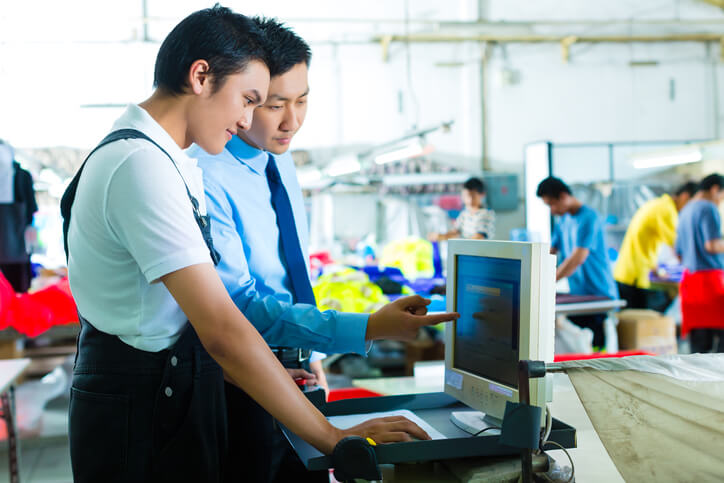 Your fashion business might be producing one of today's hottest trends with sustainably-sourced, quality materials. But what happens if your business experiences an unexpected supply chain delay and production falls short of your goals? Will your business be forced to add more equipment or hire additional workers? How can you improve visibility into production activities and shop floor control so it doesn't happen again?
Fashion manufacturers are constantly racing against the clock to meet time-to-market expectations and consumer demand. To be successful, it's critical to control operational costs and keep overhead low. That's why adding more machines or staff isn't always the best solution. Learn six reasons why efficient shop floor control is the key to fashion manufacturing success. Find out how manufacturers are using shop floor control systems to reduce costs, improve quality, speed delivery times, and maximize profitability.
What is shop floor management
More forward-thinking fashion manufacturers are asking what are shop floor control systems and how can those systems improve productivity and efficiency. According to Gartner, shop floor control, or shop floor management, is a software solution providing tools to track, schedule, and report on work progress in manufacturing facilities. With shop floor control, supervisors and managers gain the visibility needed to identify and resolve potential issues that disrupt production operations.
Shop floor control systems embolden manufacturers to:
• Collect data in real-time on the shop floor.
• Allocate and track resource usage including hours and quantities by work order or by employee.
• Define and set rules for processes including support for individual and team incentives.
• Gain visibility into plant floor activities with order milestone tracking and predictive notifications.
• Schedule production activities, track progress, and make real-time adjustments with line balancing tools.
• Improve quality control with better visual control and performance reporting.
Why shop floor control is key to fashion manufacturing success
With little room for errors and delays, fashion manufacturers must constantly stay on top of the status of each order, individual and team productivity, and any off-standard events that can make the difference between on-time delivery and chargebacks. Any misstep that results in order delays negatively impacts your bottom line.
Shop floor control systems, also known as real-time manufacturing execution systems (MES), make real-time shop floor management a reality for fashion manufacturers of all sizes. Consider these six benefits:
1. Increase productivity and efficiency. Increase productivity and efficiency with real-time scheduling, instant document delivery, scanning, facial recognition time tracking, quality control tools, real-time alerts to machine issues and more. Manufacturers have achieved long-term productivity improvements of 25-40% with Shop Floor Control.
2. Reduce throughput time. Shop Floor Control captures the information needed to identify bottlenecks sooner and determine root causes so management can make more informed decisions to keep production running smoothly.
3. Improve visibility and control. Managers receive constant feedback about work team and individual operator performance so they can make appropriate utilization adjustments. Employees can do their jobs better and faster with access to details about the products they're assembling.
4. Manage costs and quality. Control your labor and materials costs with real-time data about defects and repairs. Use this insight to make quick adjustments and meet quality control expectations that increase customer satisfaction and profitability.
5. Reduce absenteeism. Managers have access to time and attendance information in real time so they can identify and address any attendance issues or trends that cause workflow issues or production loss.
6. Minimize off-standard time. Get real-time notifications of potential problems before they happen including machine downtime, inventory stocking levels, and line setting. Make informed decisions to proactively address issues affecting productive time versus unproductive time.
Increase shop floor control and performance
The insights generated by Shop Floor Control affect performance and profitability in important ways. Shop Floor Control delivers the real-time measurements needed to improve manufacturing processes, increase operational efficiency, maximize labor utilization, and improve quality control. All of these are fundamental aspects of fashion manufacturing profitability.
Exenta is here to help fashion manufacturers reduce costs, improve quality, and speed delivery times. Our Shop Floor Control Manufacturing Execution System (MES) leverages IoT technology and off-the-shelf tablets to place real-time plant floor management in the hands of manufacturers. Our Warehouse Management System works with Shop Floor Control to increase efficiency across your entire supply chain and sales channels. Request a free demo today and find out how our innovative solutions will maximize your business potential.

Back