Exenta™ Revolutionizes Innovation Lifecycle Management Through the Launch of the Exenta Innovation Hub™
by Alexis Borucke | July 1, 2020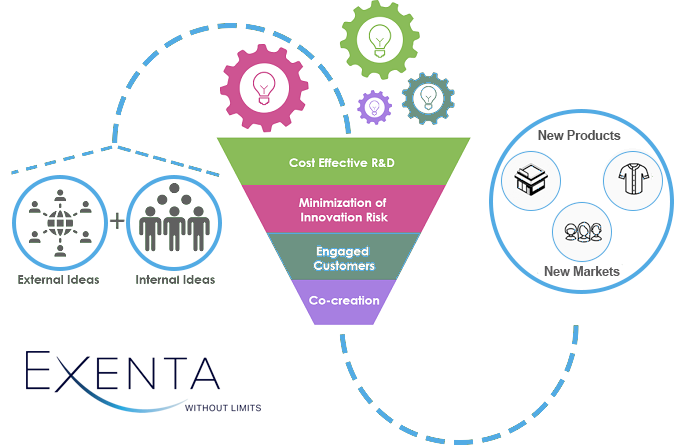 [New York City, July 1, 2020] Exenta, Inc., creator of the most powerful end to end ERP, PLM and Shop Floor (MES) solutions to support the apparel and soft goods industries, announced today the launch of a new solution, the Exenta Innovation Hub™. The Innovation Hub revolutionizes the Innovation Lifecycle Management space, at a time when any organization's success is more reliant than ever on bringing new ideas to market quickly.
"There's no question that in fashion, as well as other rapidly evolving industries, market disruption is key to beating the competition. Being first with a new idea is often critical to capturing market share," said Roberto Mangual, Chief Executive Officer at Exenta. "Just as Exenta's PLM REVO™ enables cloud-based collaboration between design and production, our Innovation Hub helps organizations tap into market trends and insights, as well as manage collaboration between employees, customers and partners throughout the innovation lifecycle."
The innovative genius behind Exenta's Innovation Hub is the company's Chief Technology Officer, Ken Fearnley. "Innovation Lifecycle Management is the process that takes non-obvious product ideas and process improvements and tracks them from concept, through refinement, testing and launch to their impact on revenue," Fearnley shared. "Successful innovation is about so much more than one great idea. Companies that thrive through innovation have a strategic view of the innovation lifecycle and a process that can capture ROI."
Exenta's Innovation Hub's key features include guided navigation to support the refinement and rating of ideas, survey tools, an innovation challenge portal, a 40-step workflow leading to a pitch deck and business plan, IP tracking capabilities, and expense reporting. The Exenta solution is available at a fraction of the cost of traditional enterprise solutions, placing the power of transformative innovation within reach for any organization.
To learn more about the Exenta Innovation Hub, visit: www.exentago.com/innovation.
About EXENTA
Exenta is the pioneer in global, cutting-edge, transformative ERP, PLM and Shop Floor Control solutions designed specifically for the fashion, apparel, footwear, accessory and home goods industries. Exenta is positioned to be a single solution partner for brands and manufacturers in every stage of business maturity and can support multiple languages and currencies. Exenta delivers high touch, 24/7 service to over 40,000 happy users of our solutions in 14 countries around the globe.
Engineered and developed by a team of experts in the fashion, apparel and manufacturing industries, Exenta offers deep domain expertise in design, sales, production, sourcing, warehouse management, Shopfloor, EDI, omnichannel and finance. With implementation support that continues long after the go-live date, Exenta continually shares best practices developed over years of experience and works with clients to adopt change and increase accuracy and efficiency, both through the use of Exenta solutions and in processes that go beyond the software to improve and accelerate operations. To learn more visit www.exentago.com.

Back