Case Study: Exenta ERP Solution Improves Efficiency And Accuracy Throughout MindsInSync, A Leader In Home Décor Solutions
by Alexis Borucke | April 30, 2020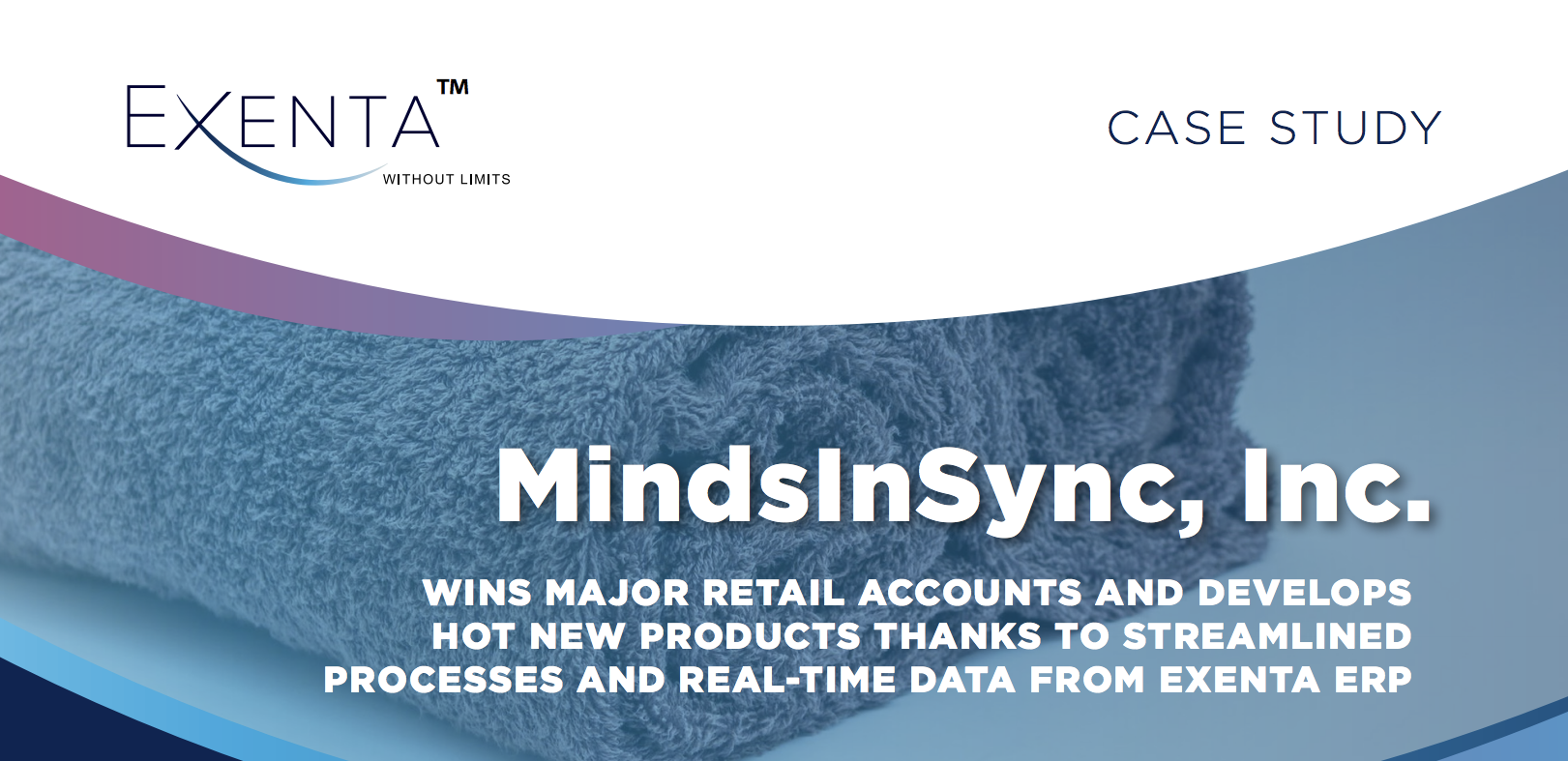 In these uncertain times, many companies are looking to cut cost and increase efficiency, and the apparel and home goods industries are no different. The right Enterprise Resource Planning (ERP) system allows companies to gain better insight into day-to-day operations as well as increase productivity and efficiency. This can lead to better business decisions and increased profitability, which is always important, even more so surrounding the current COVID-19 pandemic.
"EXENTA WAS THE BEST OF THE PACK IN TERMS OF VALUE, IMPLEMENTATION, EASE OF USE, AND ABILITY TO HANDLE THE VOLUME OF TRANSACTIONS."
IAIN SCORGIE, CEO and Founder, MindsInSync
Recently we conducted a case study with our client MindsInSync, a leader in home décor solutions for the kitchen bath and bedroom. CEO and one of three cofounder, Iain Scorige noticed his company was growing too rapidly for it's outdated business systems. Their accounting and outsourced Electronic Data Interchange (EDI) systems were not meeting the transaction processing demands of their newest and largest trading partner at the time, Bed Bath & Beyond. The executive team wanted to add more large retailers as customers, so it was time to invest in an ERP system with built-in EDI. MindsInSync selected Exenta ERP-a solution designed by fashion industry insiders for the unique transactional requirements of apparel and soft goods manufacturers.
"IN THIS DAY AND AGE, IF YOU'RE OUT OF SYNC WITH REAL TIME DATA, YOU'RE MAKING BAD DECISIONS. THE WORLD'S MOVING SO FAST. EXENTA WAS THE KEY FOR BEING ABLE TO MAKE QUICKER, SMARTER DECISIONS."
Overall, Exenta ERP helped the company improve efficiency and accuracy throughout its operations, while lowering workforce costs and reducing chargebacks. Many of those benefits were the direct result of fully automating the EDI process in order to eliminate duplicate data entry and gain real-time data analysis. As the timesaving's and efficiency of automation kicked into high gear, MindsInSync began to acquire major retail accounts rapidly. In a relatively small time span, they opened new lines of business with many major mass-market retailers. Revenue skyrocketed, yet their streamlined process enabled MindsInSync to handle the rapid growth without expanding the staff.
"EXENTA GAVE US THE CONFIDENCE TO GO AFTER MORE NEW CUSTOMERS, BECAUSE WE DIDN'T HAVE TO HIRE A HUNDRED PEOPLE TO DEAL WITH MORE CUSTOMERS. WE KNEW THE SYSTEM COULD HANDLE IT."
Thanks to Exenta ERP, the MindsInSync team spends less time bogged down in operational analysis, leaving more time to innovate new products and make strategic moves. You can read more on MindsInSync's successful implementation of Exenta ERP in their case study linked below. Can your company afford more time with the wrong ERP?
Click here to read the full case study, including specific data on reductions in chargebacks, overhead and transaction processing costs.
In times of uncertainty, improving the efficiency and accuracy of your operations can help your company be successful. Request a software demonstration today to learn how to increase profitability and streamlines processes with our ERP System.

Back