5 Ways The Right PLM Software Technologies Ignite Creativity, Foster Collaboration and Boost Productivity
by Roberto Mangual | January 21, 2020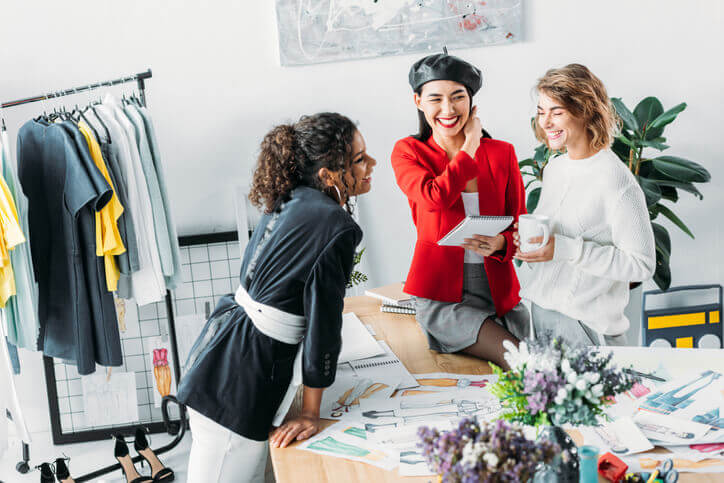 Smart, creative and fashion-forward designers are the most important asset for successful apparel and home businesses. Without attractive designs, a brand cannot grow and compete. But it takes more than great designs to send desirable products to market—brands must also source from reliable suppliers, contain production costs, manage schedules, and streamline product management.
Product Lifecycle Management (PLM), technology enables fashion and home décor brands to accelerate development cycles, reduce costs and overruns, track and manage calendars, and improve collaboration between designers, product managers, and supply chain partners.
Let's examine five ways the right PLM system can ignite creativity within a design team, boost productivity and foster collaboration:
1. Free Designers to Dream and Design
A good PLM solution will make it easier for designers to work and create by supplying them with the interface and tools they like to use. Designers don't want to feel bogged down in red tape and business process. They need a workspace that inspires them. To empower creativity, pay attention to the lighting, furnishings and ambience of the office.
PLM system workflows should always augment, and never inhibit, the creative process. Designers tend to gravitate toward Apple products for their interface and user experience, so a good PLM will offer that style of usability and that look. They want an easy-to-use, yet elegant looking technology tool to do their day-to-day work. They also want to be able to use the design tools they are most accustomed to within the PLM system. That's why Exenta PLM REVO™ includes a Design Plugin for Adobe Illustrator.
2. Accelerate the Design Process
PLM delivers a more efficient path from concept to customer, accelerating the design process by making it easy for designers to access the information that they need to be able to reuse components and designs. When prior designs are organized and easy to search, designers can quickly create additional product designs by adjusting existing templates for different sizes and colors. Once the design concept is complete, PLM software makes it easy to create multiple BOMs and measurement pages.
3. Draw Inspiration from Anywhere and Everywhere
To the creative mind, inspiration for new designs can be found in many places, such as architecture, art and nature. The younger generation of digital natives see a myriad of ways to incorporate technology tools into their creative process. They mine social media for ideas, snap photos on their phones and sketch on their mobile tablets. The right PLM system to support creativity will help designers incorporate these ideas and inspirations into their design work with ease. For example, Exenta PLM REVO™ quickly imports smartphone photos into designers' image boards.
4. Collaborate with Specialists and Suppliers
Designers need to work very closely with others, including specialists as they create new products. For example, within fashion design, new ideas like nanotechnology sensors embedded in fabrics will require strong collaboration with technical experts and engineers. Designers will also need to be able to review technical specifications. A good PLM system should incorporate collaboration tools that give designers easy access to the people and information they need to be able to produce new designs and get them created and manufactured.
5. Improve Communication Across the Organization
The design team needs to be able to communicate easily with other areas of the business, including sourcing and product management. PLM should the ability to use common messaging platforms for easy, real-time communication with colleagues. PLM also helps route assignments through the design process, automating handoffs between design milestones.
Design and sourcing data should not exist in a technology silo. An effective and integrated PLM process should integrate key technologies such as ERP, EDI, supply chain management, warehouse management and logistics so that information flows freely across the organization.
Ready to learn more about how Exenta PLM REVO™ accelerates the design process while also supporting designers in becoming more creative and collaborative? Schedule a demo and see for yourself how it frees designers to create their best work .
A good PLM system can allow companies in the fashion industry to increase innovation, collaboration, and productivity. Schedule a demonstration today to see how Extena's PLM Revo can assist your company today!

Back