Fashion and Sewn Goods
Manufacturing
Get your free white paper now!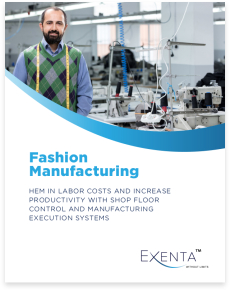 Streamline Production With This Free Exenta Fashion and Sewn Goods Manufacturing White Paper
What You Learn From This White Paper
In an effort to help our readers control their fashion and sewn goods manufacturing labor costs and boost productivity throughout their workplace operations, our free white paper explores the benefits of having a Shop Floor Control and Manufacturing Execution System (MES). With this unique, real-time software, you'll be able to identify and track various areas to build upon and improve for the most efficient workforce management. This valuable information also serves as an excellent resource to look deeper into your operations and ensure that your workers are happy and working in the best conditions possible.
What You Get From This White Paper
Beneficial info that can boost productivity
A resource that will help you reduce overhead costs
Learning how to track and fix quality issues with Shop Floor Control MES