White Paper
THE CUTTING EDGE
How Real-time Data Drives Better Decisions and Increases Productivity on the Manufacturing Floor
The inherently manual aspects of sewn goods manufacturing make profitable operations a challenge for many apparel and sewn goods producers.
 Whether a brand operates its own manufacturing facilities or contracts with third-party manufacturers, customer relationships are built on keeping a promise to deliver the right products at the right time and the right price.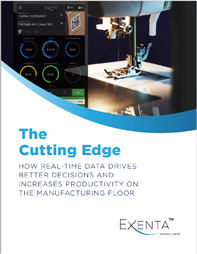 This white paper shares new ways to:
Drastically reduce manual data entry  on the shop floor
Improve quality control
Achieve real-time inventory management
Increase productivity by 22-55%*
 Download today and learn the benefits of:
Real-time visibility to WIP
Operator and Machine KPI Dashboards
Automated Incentive Pay
Seasonal Planning Tools
Quality Assurance Tracking
*Based on real use cases and real results.
See How Exenta Measures Up!
Request a copy of our Fashion and Apparel ERP Software Comparison Guide.
Read our Whitepaper on Fashion and Sewngoods Manufacturing Best Practices >