Shop Floor Control & Manufacturing Execution System
Maintain Shop Floor Control With A Manufacturing Execution System
This real-time MES (manufacturing execution system) leverages an innovative Android™ app, management dashboard, and off-the-shelf tablets running on Wi-Fi networking to collect production data. Empower workers, supervisors and managers with up to the minute production visibility and control with our state-of-the-art shop floor control systems.
Exenta's shop floor control software changes the game by eliminating the traditional requirements for proprietary hardware, wired network infrastructure, and complex software tools.
Get a demo today!
EXENTA SHOPFLOOR MES MAKES SHOP FLOOR CONTROL SIMPLE.
Read our Whitepaper on Fashion and Sewngoods Manufacturing Best Practices >
Shop Floor Control Software Key Advantages
✓ Increase Productivity & Efficiency
✓ Reduce Throughput Time
✓ Improve Visibility and Control
✓ Manage Costs and Quality
✓ Reduce Absenteeism
✓ Minimize Off-Standard Time
Simple
Shop Floor Control
Eliminate hardware, wired networks and complex software tools with Exenta's real-time manufacturing solution. Our shop floor control software uses Wi-Fi networking to collect production data, providing immediate production visibility and control all found in our management dashboard available for most smart devices.
Exenta's shop floor control systems streamline your shop floor processes by tracking, scheduling and reporting on the progress of everything from manufacturing and assembling to product processing. Exenta's software delivers all the benefits of shop floor control while you procure a record-fast return on investment.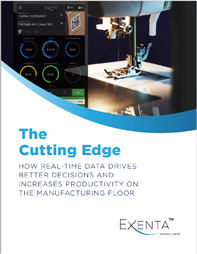 Read Our FREE Whitepaper
and learn how to streamline production with shop floor control.
DOWNLOAD NOW
See How Exenta Measures Up!
Request a copy of our Shopfloor MES Software Comparison Guide.
The Simplest Path From Concept To Consumer
Real-Time Data Collection
✓ Android Devices
✓ Wireless Networking
✓ Web-Based Management Dashboard
Worker Performance Feedback
✓ Individual/Team Productivity
✓ Pacing & Motivational Tools
✓ Document Delivery (any file type)
Time/Attendance/Payroll
✓ Calculate Payroll Automatically
✓ Export to 3rd Party Payroll Service
✓ Supports Individual & Team Incentives
Off-Standard Time Accounting
✓ Alert/Approve All Off-Standards
✓ Pay/Off-Standard Code Mgt.
✓ Track Training Progress
Plant Floor Visibility & Control
✓ Order (WIP) Tracking
✓ Line Balancing Tools
✓ Advanced Production Planning
Quality Control
✓ Identify/Manage Quality Issues
✓ Visual Control with Pictures
✓ Quality Performance Reporting
"Due to the integration between Exenta ERP and Exenta Shopfloor Control, our operators are able to scan their own work. By not having to scan barcodes in the office, we reduced our managerial and administrative time by 80%. Basically, we saved one FTE (full time employee) who was then reallocated to a sourcing and business development role, which increased revenue opportunities." –Carrie Bovender, CEO and Owner, Grand Forest
It's your choice. Stay with an inefficient legacy system and isolated data streams, or make the move to our next-generation enterprise technology and take your business into the future.