Adobe Illustrator PLM Integration Plugin
PLM integration For Adobe Illustrator
Connectivity and collaboration have long been end goals, but creative teams often have considered PLM solutions more of a hindrance than a help. That's because many of these systems require tedious data entry and time-consuming processes just to accomplish simple things like adding a new concept or style.
Our PLM integration with Adobe Illustrator takes the user experience to a whole new level. Exenta believes that PLM fashion software should enable creative teams to stay creative. This powerful Design Plug-in for Adobe Illustrator works with Exenta PLM REVO™ to reduce the amount of time designers spend creating and managing designs, articles and colorways. It eliminates excessive data entry and streamlines the design and development processes by empowering designers to launch new products and bills of materials without ever leaving Illustrator.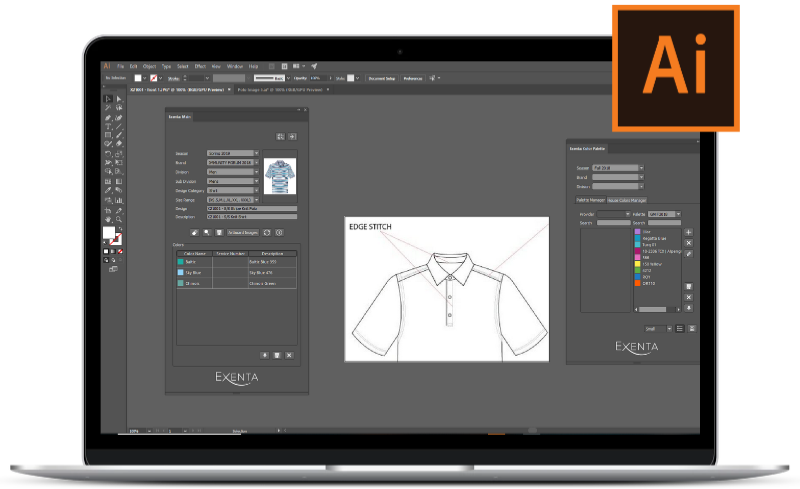 EXENTA DESIGN PLUG-IN FOR ADOBE ILLUSTRATOR KEEPS DESIGNERS CREATIVE AND PRODUCTIVE.
"Exenta ERP is the backbone of all our systems, and I am particularly pleased that we have an integrated, web-based PLM to support our designers who are working remotely as healing hands aids our nation's healthcare workers." –Sid Lakhani, CEO, Healing Hands
PLM Integration Key Advantages
✓ Accelerate Design/Development Process
✓ Save Massive Design Hours Every Year
✓ Increase Focus on Value-Added Activities
✓ Eliminate Dedicated Data Entry Efforts
✓ Enable Real-time Design Sharing
✓ Ensure Design-Development Collaboration
The Exenta Design Plug-in eliminates process steps and keystrokes required to create, edit and import designs between Illustrator and traditional PLM systems. Our PLM integration saves time and effort by eliminating the hassle and confusion of using multiple software applications.

The Design Plug-in technology empowers teams to share and approve the most recent designs and details across both design and PLM applications. Instant, bi-directional synchronization and full PLM integration keeps all new or updated designs automatically updated in both Illustrator and Exenta PLM REVO™.
Read our Whitepaper on Fashion and Sewngoods Manufacturing Best Practices >
The Simplest Path From Concept To Consumer
Design-Development Integration
✓ Launch New Products/Tech Packs in Illustrator
✓ Create, Search & Edit Designs in Illustrator
✓ Create, Develop & Update BOM in Illustrator
✓ Directly Access Fabric, Trim & Other PLM Libraries
✓ Save Time, Reduce Errors, Enhance Communication
Technical Specifications
✓ Microsoft Windows 7 (64-bit) or later
✓ Mac OS 10 or later
✓ Illustrator CC2015-CC2017
✓ English Language
✓ Requires Exenta PLM REVO™
Key Solution Features
✓ Simple and Easy to Use
✓ Adds PLM Menus to Native Adobe Toolbar
✓ Seamless Integration to Exenta PLM REVO™
✓ Bi-Directional (Illustrator-PLM) Synchronization
✓ Plug-in Interface Like Illustrator Widgets/Panels
✓ Minimize, Expand, Collapse & Dock Panels
Color/Process Management
✓ Create New Colors and Assign to Libraries
✓ Search/Generate Palettes from Color Services
✓ Populate Custom Colors from Illustrator
✓ Manage Seasonal Color Palettes
✓ Assign In-house Colors as Colorways
✓ Import Color Palettes Back to Illustrator
✓ Update Color Palettes to PLM REVO™
Related Articles
How Can Designers Communicate Effectively While Working Remote?
Oct 9, 2020
The coronavirus crisis has drastically changed what our daily lives look like. Millions of people are out of work, and consumers are changing their spending habits quickly to evolve with the times. Consumers just want what they know they will wear, for a reasonable price…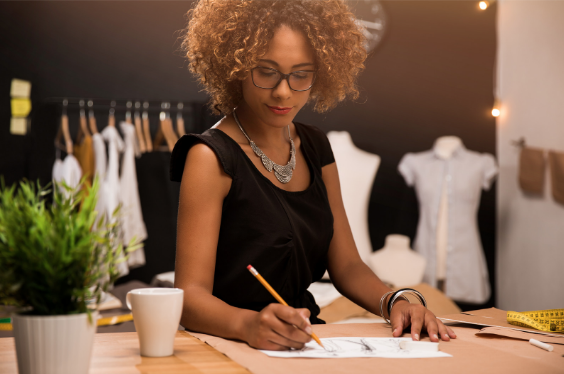 How the Fashion Industry Must Adapt in a Post-Covid-19 World
Dec 8, 2020
According to the CDC, the first laboratory-confirmed case of COVID-19 in the United States was recorded on January 20, 2020, and reported to CDC on January 22, 2020. Since then, over 65 million cases have been reported worldwide and over 1.5 million fatalities. As countries...
It's your choice. Stay with an inefficient legacy system and isolated data streams, or make the move to our next-generation enterprise technology and take your business into the future.